Advocacy and education to promote the preservation of Atlanta's architecturally, historically and culturally significant buildings, neighborhoods and landscapes.
August 5, 2015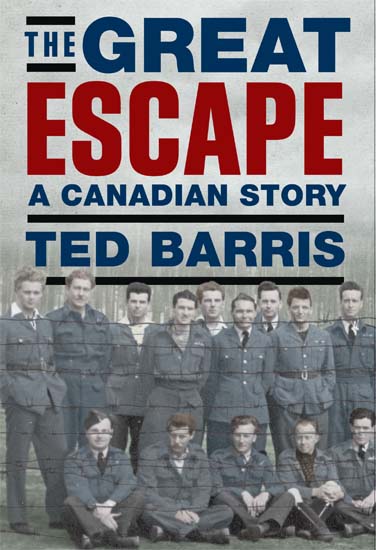 How does historic preservation intersect with a daring escape from Stalag Luft III, the WWII German prisoner-of-war compound? Find out Thursday, August 13 at 6:30 pm  when author Ted Barris joins us at the Lemuel Pratt Grant Mansion for a discussion of his new book, The Great Escape:  A Canadian Story.  Mr. Barris will be in residence at the University of Georgia — Hargrett Rare Books & Manuscripts Library — for several days to research his next book.  Mr. Barris will expand on how his research brought him to Georgia, as well as how and why preservation is crucial to the work.  Historical research, historical architecture and the myriad of experiences and knowledge saved by preservation will also be highlighted in the discussion.
Mr. Barris is an award-winning journalist, author, broadcaster,  and a professor of journalism and broadcasting at Toronto's Centennial College. His work has appeared widely in the Canadian national press and he is also known for multiple military history works. The following is an excerpt from his bio:
Barris is the author of 17 bestselling non-fiction books, including a series on wartime Canada: Juno: Canadians at D-Day, June 6, 1944 … Days of Victory: Canadians Remember 1939-1945 … Behind the Glory: Canada's Role in the Allied Air War … Deadlock in Korea: Canadians at War, 1950-1953 … Victory at Vimy: Canada Comes of Age, April 9-12, 1917 … Breaking the Silence: Veterans' Untold Stories from the Great War to Afghanistan … Last year, The Great Escape: A Canadian Story became another of his military history National Bestsellers.
Join us on Thursday, August 13 at 6:30 pm for this fascinating tale.
The Grant Mansion is located at 327 St. Paul Avenue SE, Atlanta 30312.  On street parking is available on St. Paul Avenue and Grant Street.
Reservations are not required.  This event is free and open to the public.
---